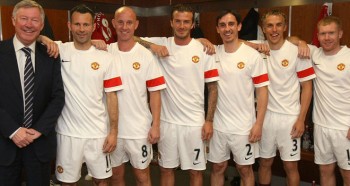 David Beckham has admitted he would like to play as long as former teammate Ryan Giggs, who is expected to make his 1,000th appearance against Norwich this weekend.
The latter, who turns 40 this autumn, was recently awarded a new one-year contract at Old Trafford, with Beckham praising Manchester United manager Alex Ferguson for his careful handling of young footballers. Another teammate of Beckham, Paul Scholes, is 39 later this year and still in United's first team squad.
And Beckham, 18 months younger than Welshman Giggs and currently with Paris St Germain, told newspaper L'Equipe: "When we were still teenagers, Alex Ferguson educated us to respect the game, respect our bodies and love what you do.
"Right now, it's Ryan Giggs who has gone the furthest. But hey, in the end, it might be me who plays for longer." As for his ambitions in France, he added: "I know that I only have a six-month contract but I really want to contribute to PSG becoming a big club. "At my age, I cannot have a contract for two or three years, I take each year as it comes. "But if I still feel as fit, I will continue to play."