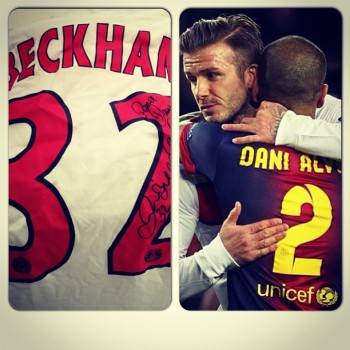 David Beckham gave his signed jersey to player Dani Alves in the match Barcelona - PSG.
"Obrigado David pelo presente" coleção aumenta com uma relíquia. (Causar inveja em um monte com a foto aí hein huuuuu haaaaa huuuuuu)''
-----------------------------------------------------------------
David Beckham regaló a Dani Alves la camiseta con la que disputó el reciente Barcelona - Paris-Saint Germain de Champions League. "Gracias por el regalo, David. La colección aumenta con una reliquia", ha escrito el lateral brasileño del Barça en su cuenta de Instagram, a la que ha subido esta fotografía. En ella puede apreciarse el autógrafo del jugador inglés.
sportyou.es