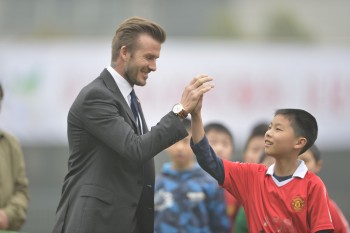 Asked about an advisory role at the FA, Beckham said: "I've been able to experience different footballing cultures and different approaches at grass-roots level in various countries so it is something I could do when I finish playing.
"I am sure I will be involved in football my whole life. My career will continue as some kind of ambassador after I finish playing. I want to help English football and football in general. Over the last 10 years I have been proud of what the English teams have done. We have not got a team in the semi-finals this year but these things happen. We still have one of the best, if not the best, league in the world, and players from all over the world want to play in the Premier League. "I think that helps our league. I don't think it damages it although it is important we still continue to bring young English players through as well. There is a lot of good work being done in England at grass-roots level; if that continues it will reap dividends."
Of the England team built around Sir Alex Ferguson's young Manchester United players in the late 1990s, Gary Neville is the first to emerge as an England coach. Beckham said: "I always saw Gary as someone who would go into that role. When you have players with that much knowledge it is great to have them involved in the game."
Beckham came close to featuring in today's draw until Barcelona's Lionel Messi intervened. Beckham said: "Messi is one of a kind. There's only Cristiano Ronaldo that can come anywhere close to him. They are both similar in technique and talent and it is incredible to have two players like that in the game at the moment."