twitter.com/victoriabeckham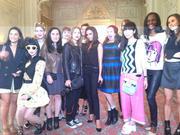 Exclusive: ELLE UK's fashion editor visits with VICTORIA BECKHAM
By Rebecca Lowthorpe
Saturday 28 September 2013
Clever, charming and professional
Victoria Beckham in Paris for her digital media event
Victoria Beckham was in Paris this morning holding court at the British Ambassador's residence in Paris. 'The sun is shining, I'm in Paris, at the British ambassador's house no less and we're talking about beautiful clothes,' she smiled, with effortless, easy-going charm. In fact, this was business: Beckham, wearing slim black trousers from her latest womenswear collection - shown a few weeks ago in New York - and a sleeveless black top with lace inserts on the back from her pre-fall collection (her new pre-fall is performing very well she said) had invited fashion's digital media to come and inspect her spring / summer 2014 collection up close and personally – with her.
Fashion bloggers like Susie Lau and Garance Dore were in attendance. Digital is Victoria Beckham's next big focus – and judging by the way she has focused with laser-like precision on developing her fashion business, it is destined for great success. Her website has been in action for a year, she explained: 'I didn't put ready to wear on the site when I launched because I really wanted to understand my customer and know exactly what she wanted before I made the edit and put it online.' She started out with the Icon collection – her favourite dresses from previous seasons. 'It was a huge success,' she said. 'And it feels like the right time to remove Icon and put up ready to wear. It will be my edit. And that's what I'm really excited about. When people go on my website they're seeing the brand through my eyes; nobody's doing the edit other than me. I'm collating everything so it's really seeing the brand through my eyes.'
She then pointed out her brilliantly coloured bags. 'This is Seven, now in it's third season,' she said about a luxury bold coloured bag covered in a hexagonal design. 'And this is Quincy. I have three nieces – Liberty, Tallula and Quincy. 'Liberty has been a huge, huge success, our best selling bag. And Liberty has a baby sister Quincy and that's who the bag is named after. This is the Quincy,' she offered, proudly pointing to a bright pink tote. 'Quincy is three. And look it's a great shape, it's chic and sophisticated, you can fit a lot in it - all your bits and bobs!' She then said her favourite pieces from her latest womenswear collection included the tailoring, particularly the shorts and cropped trousers – 'a more relaxed take on tailoring than I'd done before' - and the knitwear - 'the black high-necked cropped jumper; it was actually the first thing I've worn from the collection'.
When asked if she would be seeing any shows this week in Paris, Beckham said: 'No! I'm done! I haven't been to anyone else's show for a long time. I mean, I love shows, I love the energy and excitement. And people don't realise how much effort goes into a show – My mum said that when she came to New York this time and saw the pre production space before the show.' Beckham said she was looking forward to catching up with other designers' collections online and very happy to be going back to London after her digital media press conference. 'I'll go home and spend time with my family. And it's such a thing now turning up at a show – with all the press – I have enough drama going on of my own with my show.' And with that, she corralled all the bloggers in the room to pose for a picture with her – which of course became a hot 'like' on Instagram. Victoria Beckham: clever, charming and a professional to the core.
Article:
ELLE