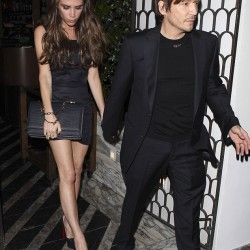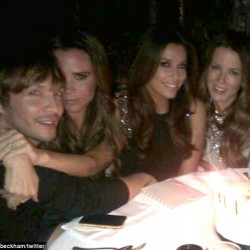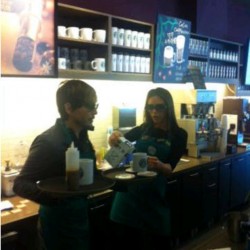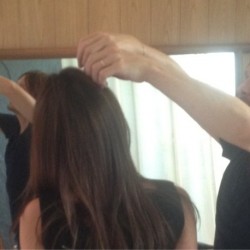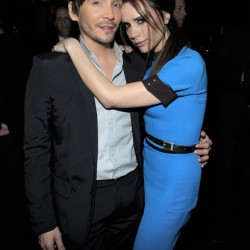 Hairstylist KEN PAVES talked about her BFF and client VICTORIA BECKHAM in an exclusive interview to NEW! magazine: "I first met her and David in Rome when I was with Jennifer Lopez. We all got chatting at Tom Cruise and Katie Holmes' wedding and had a laugh. "Victoria has got a secret wild side. She has this vibe that makes everyone around her laugh." "She's so much fun, which people don't realise. "Victoria is so down to earth and surprising. She's spontaneous. "And she doesn't take herself too seriously. You never know what's coming next!"
"Victoria knows what she wants. She's very versatile. For her, hair is part of her fashion. What she's wearing sets the tone for her hair.
Her style is undone glamour, so it never looks like I've been there at all! A compliment, I think.
She has a great creative eye and an eye for strong visuals. We talk everything through first and the hair follows what she decides to wear. The outfit always comes first."
''
Her and David are such an awesome couple. Victoria is so down to earth and surprising.
One minute, we're chatting and the next, she's posting stuff on Twitter - her in gigantic shoes and the two of us serving coffee at Starbucks!"
---------------------------------------------------------------
La revista NEW! entrevistó al estilista de VICTORIA BECKHAM: ''Conocí a David y a Victoria en Roma cuando trabajaba para Jennifer Lopez. Nos pusimos a charlar y a reir en la boda de Tom Cruise y Katie Holmes. Victoria tiene un lado salvaje secreto. Tiene esa buena vibra que hace reír a todos. Es muy divertida, aunque la gente no lo sepa. Victoria es muy humilde. Es espontánea, no se toma muy en serio a ella misma y nunca sabés con qué te va a sorprender! En un momento estamos charlando tranquilos y de repente quiere twittear una foto de nosotros atendiendo Starbucks!.
Victoria sabe lo que quiere. Es muy versátil. Para ella, el cabello es parte de su moda. Lo que viste establece el tono de su cabello. Su estilo es el de glamour sin esfuerzo, no parece que yo hubiera estado trabajando ahí! Tiene buen ojo creativo y para lograr visuales llamativas. Primero hablamos de todo su look y luego el cabello sigue lo que ella decide vestir. La ropa siempre viene primero.''