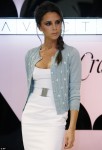 Designer Victoria Beckham
told British Airways' Business Life Magazine
: ''I think I'd be freaked out if I thought about that too much. Honestly I wake up every morning and pinch myself. I appreciate how lucky I am. I don't take anything for granted. I have an amazing family and a job I love. It's all so incredible.''
Although she has reached worldwide fame through first her music areer and now her own fashion label, Victoria has no plans to slow down and is instead considering new areas to branch out in.
She said: ''[I might design] shoes next. Or something surprising in technology perhaps. All I know right now, is that I'm enjoying the journey.''
Victoria - who has four children, Brooklyn, 13, Romeo, nine, Cruz, seven, and one-year-old Harper, with soccer star husband David - says she never set out to be a huge business brand and just designed clothes because she enjoyed it.
She said: ''I didn't set out to create a big brand or business. I just set out to design, to have a creative outlet. It's what I like to do. I love fashion. It's my hobby that's turned into a successful business. Of course I have to work hard at it. I'm up early and most of the night as well.''
Victoria reveals that she takes Harper "everywhere" with her and she has to schedule her working life around her family life and she doesn't think she's any more special than other working families.
"I work hard but a lot of people work hard," she told British Airways' Business Life magazine.
"My husband and my kids are my priority. I schedule my work around my children. Harper comes with me everywhere. The boys came when they were little but they're at school now."
She added: "I'm not doing anything different from any other working mum. I have four kids but I get on with my life."
Victoria continued: "Being a mum is difficult. There's no rulebook, I'm just doing the best I can for David and for them."
Of her designing talent, for which she won an award at the London Fashion Awards last year, Victoria admitted she's found something she loves.
"It's my passion, what I always wanted to do. I have found an area I can compete in, in my own little way. I'm just starting. I have a long way to go and I know that.
----------------------------------------------------------------------
La diseñadora Victoria Beckham charló con la revista Business Life de British Airways: 'Creo que me agarraría un ataque de locura si me pusiera a pensar lo famosa que soy. Sinceramente, todos los días me despierto y me pellizco. Aprecio lo afortunada que soy. No tomo nada a la ligera. Tengo una hermosa familia y amo mi trabajo. Todo es maravilloso.'
Tambien habló de su carrera en la moda y dijo que no planea frenar ni un poco y que esta considerando ampliar su horizonte.
'Quizás diseñe zapatos para la próxima. O algo sorprendente en tecnología, tal vez. Lo único que sé ahora es que disfruto el viaje.'
'No planifiqué crear una gran marca. Sólo empecé a diseñar, a tener un lugar creativo.

Es lo que me gusta hacer. Amo la moda.

Es un hobbie que se convirtió en un negocio exitoso. Por supuesto que tengo que trabajar duro en él. Me levanto temprano todos los días y me quedo toda la noche despierta también

.'
Victoria reveló que lleva a Harper con ella a todos lados. 'Trabajo muy duro, pero mucha gente también lo hace. Mi esposo y mis hijos son mi prioridad. Organizo mi horario de trabajo en base a los de mis hijos. Harper siempre viene conmigo. Los niños solian hacerlo también pero ya están en el colegio

. No hago nada diferente a lo que hace cualquier otra madre trabajadora. Tengo cuatro hijos pero sigo con mi vida. Ser mamá es difícil. No hay un libro de reglas, solo hago lo mejor que puedo para David y para los niños.'
Sobre su talento en el diseño y el hecho de haber ganado un premio:
"Es mi passion, lo que siempre quise hacer. Encontré un área en la cual puedo comp
etir, a mi manera. Recien comienzo. Tengo un largo camino por recorrer y lo sé.'