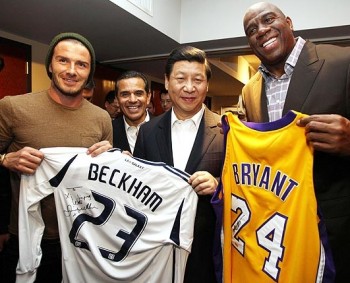 The footballer's star power is so strong that even the soon-to-be Chinese president Xi Jinping's security guards lost focus when Becks walked into the room at a high-powered meeting.
The chief executive at Becks' team LA Galaxy, Tim Leiweke, told ESPN: "David is phenomenal. We had a meeting with the soon-to-be president of China.
"He came into a suite with his security guys. These guys don't mess around, they pull guns if someone gets close to him.
"But David Beckham comes walking into the suite and the security guards leave the president, pull their autograph pads out and there is the president, in the middle of the chaos, all on his own because his security are all in line getting pictures with David."
-------------------------------------------------------------
Los guardaespaldas del futuro presidente de China, Xi Jinping, se relajaron totalmente cuando David Beckham ingresó a la habitación.
El jefe ejecutivo del LA Galaxy dijo a ESPN ''David es un fenómeno. Nos reunimos con el futuro presidente de China, quien llegó con sus guardaespaldas. Estos hombres no juegan, enseguida sacan un arma si alguien se le acerca. Pero David llegó y estos hombres dejaron al presidente, sacaron sus libretas de autografos y el presidente quedó en el medio del caos, solo, porque los guardaespaldas estaban pidiendole fotos a David.''