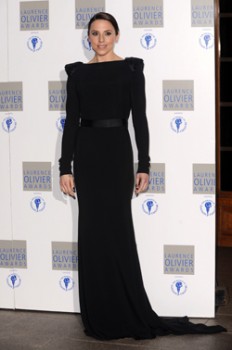 Beautiful singer Melanie C looking glam in a Victoria Beckham dress
Melanie

Chisholm has defended her fellow Spice Girls singer

Victoria Beckham after critics branded her "moody", insisting the busy star is exhausted from her globetrotting lifestyle

.
The British girl band reunited in London this week (ends01Jul12) to launch its Viva Forever musical, but the wife of soccer ace David Beckham was slammed by critics for apparently failing to smile during the photoshoot.
Now Chisholm has spoken out to defend her bandmate, declaring that the mum-of-four was simply tired after making a transatlantic dash from her home in Los Angeles to attend the launch.
She tells Britain's Daily Mirror, "It's annoying when people say Victoria wasn't smiling or didn't want to be there. She really did. It was a flying visit and both her and Melanie (Brown) were exhausted as they'd flown in from Los Angeles.
"She was so tired but, among us, she was on great form. It's great that she decided to make the trip at all. She's a very busy lady and in the middle of designing a new (fashion) range. It's certainly not easy for her."
-----------------------------------------------------------------------
Anter las críticas que su amiga Victoria Beckham recibió por haber estado tan seria y 'apartada' en la presentacion ante la prensa de Viva Forever!, Melanie C defiende a la diseñadora Posh diciendo que las críticas están completamente equivocadas y que tanto Victoria como Melanie B estaban agotadas por el viaje desde USA. ' Es molesto cuando la gente dice que Victoria no sonreía o no quería estar ahí. No fue así para nada.Fue una visita rápida y tanto Victoria como Melanie (Brown) estaban agotadas de haber estado en un avión. Victoria estaba tan cansada, pero, entre nosotros, estaba en muy buena forma. Es genial que haya venido. Es una mujer muy ocupada y está en la mitad de la creación de su próxima colección. Definitivamente no es fácil para ella.'' dijo Melanie C