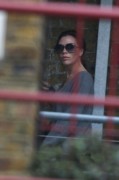 Victoria se encuentra en Londres acompañando a su marido,el cual empezo ayer a entrenar junto a el Tottenham.
Las imagenes fueron captadas mientras entraba en sus oficinas situada en Londres.
-----------------------------
Victoria is in London with her husband David Beckham, who started training with Tottenham.
These images were taken in the entrance of their offices in London.
cherylcolespain.blogspot.com