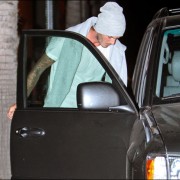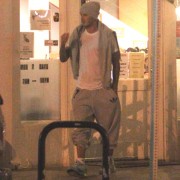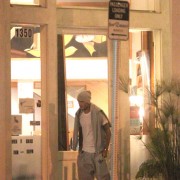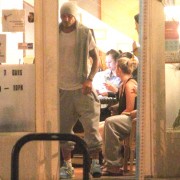 He paid $40 (£26) for a full-hour treatment before jumping into his minder's waiting car at 10.15pm for the 14-mile trip home.
There are dozens of parlours closer to Becks' LA mansion - and he has a massage therapist and physiotherapist provided by Galaxy to help him recover from a torn Achilles tendon.
But David, 35, is a regular at Lamai, which is in the edgy Venice Beach suburb. Masseuse Al Manomai, who gave the dad-of-three his rubdown on Monday, said: "David has visited the shop a few times.
I was standing on his back and we did a lot of stretches
"He wanted his leg and back worked on but told me to be careful of his ankle as he has an injury. I was standing on his back and we did a lot of stretches. He came in quite late though and didn't have time for a cup of tea afterwards."
She went on: "He gave me a good tip, $20, but it wasn't much more than other customers."
The massages are given in private booths, enclosed by green curtains. Clients are asked to strip to their underwear then put on loose linen trousers, which are provided.
LA's Thai massage parlours are notorious for offering sexual favours - known as "happy endings".
But Lamai does not provide sex services, and bills itself as a reputable centre for injury treatments and deep-tissue massage.